Current students
International Program
International Program is an educational program for students in the School of Design that will begin in the academic year 2021. The program aims to develop the stance, attitudes, and communication skills necessary to work independently in international society and to develop human resources with specialized design knowledge and skills and a sense of identity of their own country. By studying abroad or taking equivalent courses, students will learn approaches, methods, and ideas for design that do not exist in Japan to broaden their scope of design.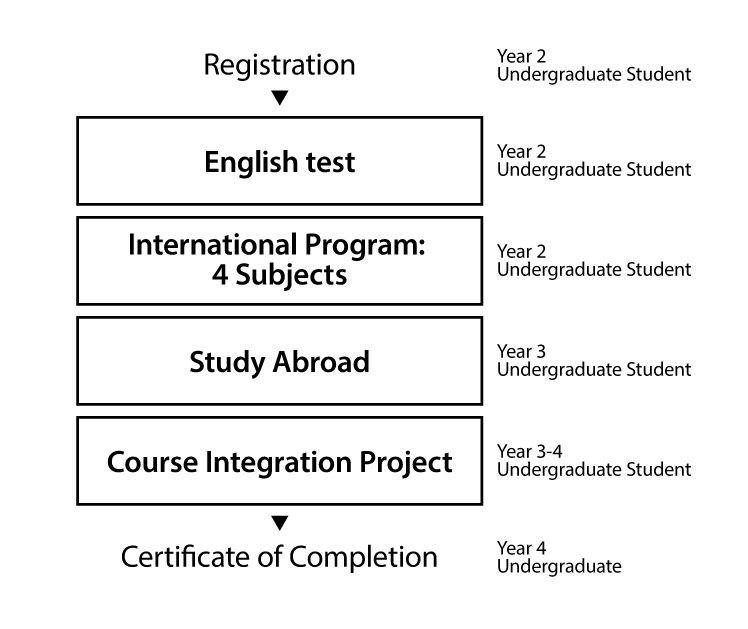 Registration for the International Program
If you are considering taking the International Program, we recommend that you attend a guidance session in the second semester of your first year to receive information on preparation for the program. A program briefing session will be held in the spring term of the second year, followed by an application for the program at the end of the spring term. Students will be selected at the beginning of the summer semester when the international program begins.
The number of students enrolled in the International Program is limited to 10. If the number of applicants exceeds this number, a selection will be conducted.
Requirements for Program Completion
After enrolling in the international program, students who meet the following three conditions will be issued a certificate of completion.
(1) Students must take the following four subjects:
– Start-ups and Global Disruptors(Year 2 Undergraduate Summer Term)
– Global Design Innovation(Year 2 Undergraduate Summer Term)
– Design Pitching Skills(Year 2 Undergraduate Autumn Term)
– Intellectual Property Rights: Global Perspective(Year 2 Undergraduate Winter Term)
(2) Study abroad (including short-term study abroad) and obtained 4 or more credits in subjects other than languages.
(3) Must meet undergraduate graduation requirements.
For more information about the International Program, please refer to the "International Program Guide" below.
[Contact]
International Office, Faculty of Design, Kyushu University
Kyushu University, Ohashi Campus, Administration Building, 3rd Floor
TEL: +81 92 553 4652
E-mail: intl-ofc[at]design.kyushu-u.ac.jp
Please replace "[at]" in the email address with "@".