Prospective students
Living Expenses in Fukuoka
Many people are concerned about the cost of living in Japan when they study abroad. We asked international students of School of Design and Graduate School of Design who attend Ohashi Campus about the cost of living for a month. Please refer to the following for some of the costs of living in Fukuoka. Below are the three types of accommodation: Kyushu University dormitory (single room), private apartment (single room), and private apartment (with family).
Ijiri International House (Kyushu University Dormitory – Single Room)
About 100,000 yen/month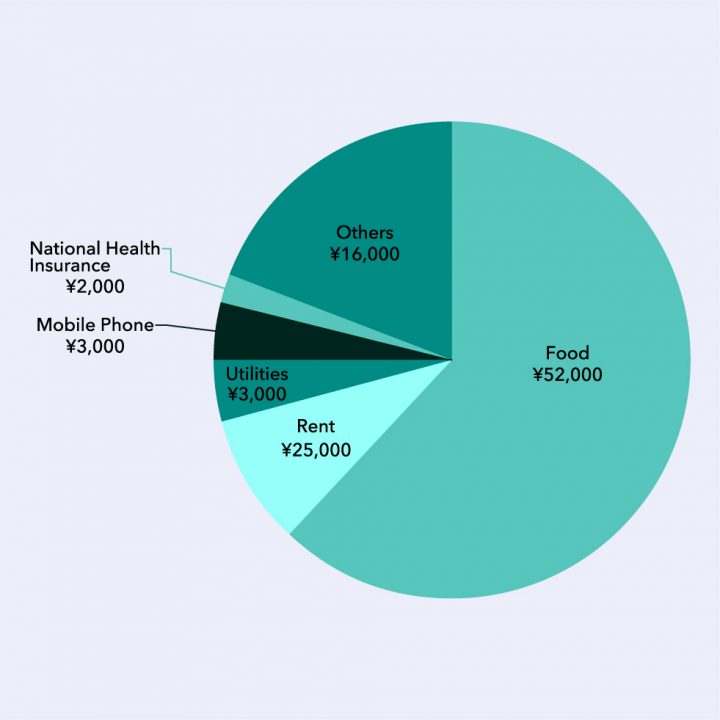 The boarding fee for Ijiri International House is 25,000 yen per month effective from October 2021. Internet is free of charge. In addition, there is an initial cost when you move in. For details, please refer to the Application for Dormitories of Kyushu University.
Some international students use bicycles to commute to school and spend very little on transportation. Bicycles are inexpensive and easy to ride. It costs about 10,000 to 30,000 yen, depending on the item. However, used bicycles can be purchased for as little as about 7,000 yen. In Japan, bicycles purchased must be registered for theft prevention and early detection of stolen bicycles. The registration fee is 600 yen. You can register your bicycle at the store where you bought it.
Fukuoka has many festivals and tourist attractions. On weekends, you can go to the mountains, the sea, hot springs, Dazaifu, etc., with your friends. Depending on the trip, a day trip by train will cost from a few thousand yen to about 10,000 yen per trip.
Private Apartment -Single Room
About 120,000 yen/month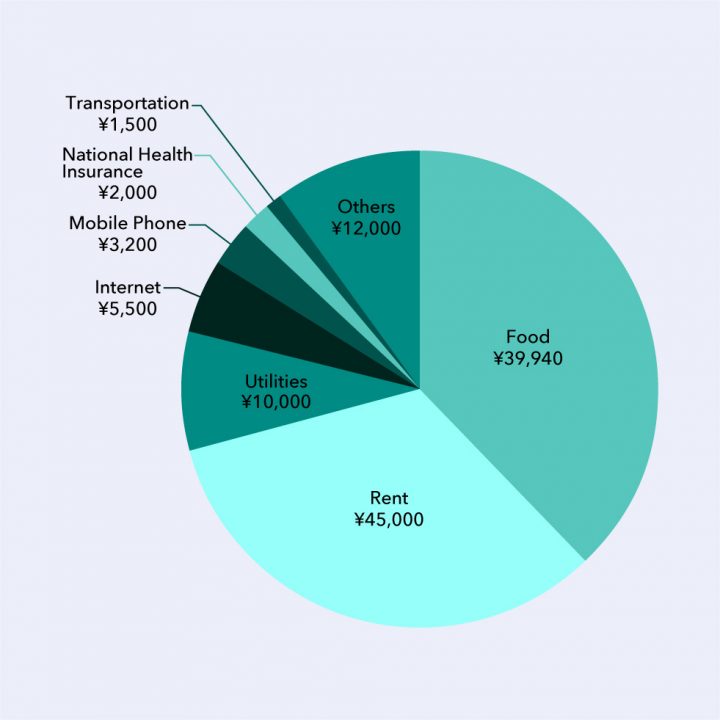 Please refer to "Moving Out to Off Campus Housing" when you are looking for a room. You can find information on designated dormitories of Kyushu University, private residences, and public residences. You can also get information about finding a room at the Kyushu University Co-op.
When renting a room in Japan, prepare in advance for a high initial expense. The monthly rent and deposit are the same in all countries, but Japan also has a unique cost – "Reikin". Reikin is the money you pay to the owner as a reward. Unlike a deposit, it is not refundable when you move out. In addition, it is a good idea to prepare about 5 to 6 months' rent for your initial expenses, including the agency fee, the first month's rent, various insurance premiums, and the key replacement fee.
In many countries, rooms are equipped with refrigerators and washing machines, but in Japan, rooms are not furnished or equipped with home appliances, only air conditioners. Also, apartments and condominiums are less insulated than in other countries, and there is no central heating. The average temperature in Fukuoka in winter is 7 to 10 degrees Celsius. You will need to turn on the heater (air conditioner), which will increase your electricity fee. A winter jacket and thermal underwear are essential when going outdoor. If you are coming from a country that is hot throughout the year, you may want to prepare for the cost of purchasing winter clothes.
Private Apartment -Family of Four
About 210,000 yen/month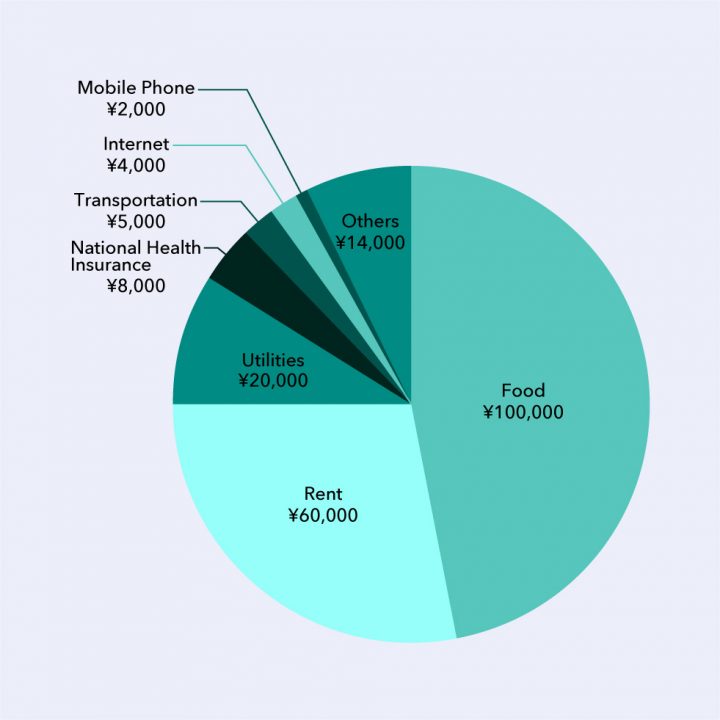 If you are coming to Japan with your family, you may need a spacious apartment. In addition to the area near the Ohashi campus, you can also find relatively inexpensive apartments for families in cities and towns outside of Fukuoka City that are 10 to 20 minutes away by train. Also, if you have children, they can enroll in public elementary and junior high schools for free, just like Japanese children.
If you are granted permission to stay in Japan for more than 3 months, you must join the National Health Insurance. If you live with your family, they must also join the insurance. In other countries, access to medical institutions and medical expenses differs from that in Japan. In some countries, medical care is free of charge, but in Japan, it is chargeable. You need to pay a monthly premium to join this insurance. When you visit a medical institution for illness or injury, you only need to pay 30% of the medical expenses. In addition, medical institutions can be divided into two main categories: "hospitals" and "clinics". Hospitals mainly treat major illnesses and injuries that require hospitalization for treatment. Clinics are for routine illnesses and minor injuries. It is important to choose the appropriate medical institution according to your medical condition. Also, most medical institutions in Japan do not support multiple languages, so please check beforehand if there are interpreters or staff who can speak foreign languages.
Fukuoka is also rich in agricultural products. You can buy delicious food at relatively low prices compared to Tokyo or Osaka. For unusual ingredients and seasonings imported from overseas, you can buy from imported food stores in Ohashi Station or online shops.