Current students
【Closed】Kado Experience 2021/22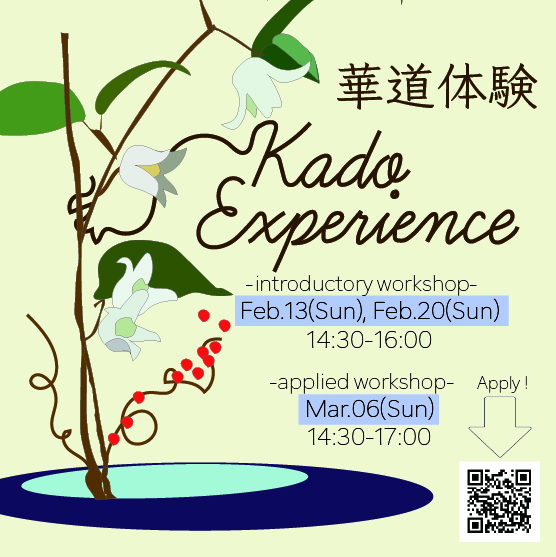 Orgainzed by Geiko Student Supporters 

Only a few seats left on Feb 20. Registration for Feb 13 and Mar 6 are now closed
Kado (華道, also known as Ikebana) is a traditional Japanese art form of flower arrangement. Flowers, plants, leaves and branches are chosen according to the season and participants will use them to create a composition of flowers for appreciation. There are many different schools of Kado, and we are pleased to invite an experienced instructor – Shosen Hoshii sensei, from the School of Sogetsu (草月流), to lead a series of Kado workshops for beginners.
"I hope this will be a good opportunity for Geiko students to learn about the joy of sculpting with flowers, which is unique to Japan."

– Message from Shosen Hoshii sensei
Date and Time:
1. Introductory Workshop – Either 13 February (Sun) FULL or 20 February (Sun), 14:30-16:00 (Only a few seats left)
2. Applied Workshop 6 March (Sun) , 14:30-17:00 FULL
Venue: Room 305, Building 3, Ohashi Campus
Fee: Tuition is free but you need around 1000-1500 yen for buying flowers on March 6.
Application: Please register early to secure your seat by February 10 via the URL below.
https://forms.gle/vjBGPWTFSBpL6AhV8
Registration to this events on Feb 13 and Mar 6 is now closed due to limited capacity of each session (max 7 for each session). Sorry for the inconvenience. If you would like to be placed on our waiting list to be notified if a space becomes available please email the International Office at infl-ofc@design.kyushu-u.ac.jp.
IMPORTANT NOTE:
If you are going to be absent, please email to the International Office (incl-ofc@design.kyushu-u.ac.jp) or the contact person (to be informed later) by at least two days before each lesson. In the unlikely event that you do not contact us, you will be responsible for the cost of the flower materials. The same applies to contacting us on the day of the workshop.
Introductory Workshop
Date and Time: Either 13 or 20 February, 14:30-16:00
Remarks: Same contents for both sessions (so you can choose to join either one of the session)
You will learn the fundamental Ikebana flower style, the basic upright style of the School of Sogetsu school. The instructor will show you how to hold scissors, use kenzan (a needle-pin holder), and create the basic Ikebana style. After her demonstration, you will try to make the same flower style by yourself (Flowers and tools will be prepared for free by the organizer).
Applied Workshop
Date and Time: 6 March, 14:30-17:00 (it is an follow-up sessio of the Introductory Workshop)
You will hang out with the instructor and other participants to choose the seasonal flowers used in the lesson in the flower shop in Ohashi area. After purchasing the flowers together, you will create your artwork with the instructor's guidance. You will receive a certificate after the completion of two sessions (Part of the flowers and tools will be prepared by the orgaanizer, please prepare around 1000-1500 yen to buy flowers together during the workshop).
Photos of the workshops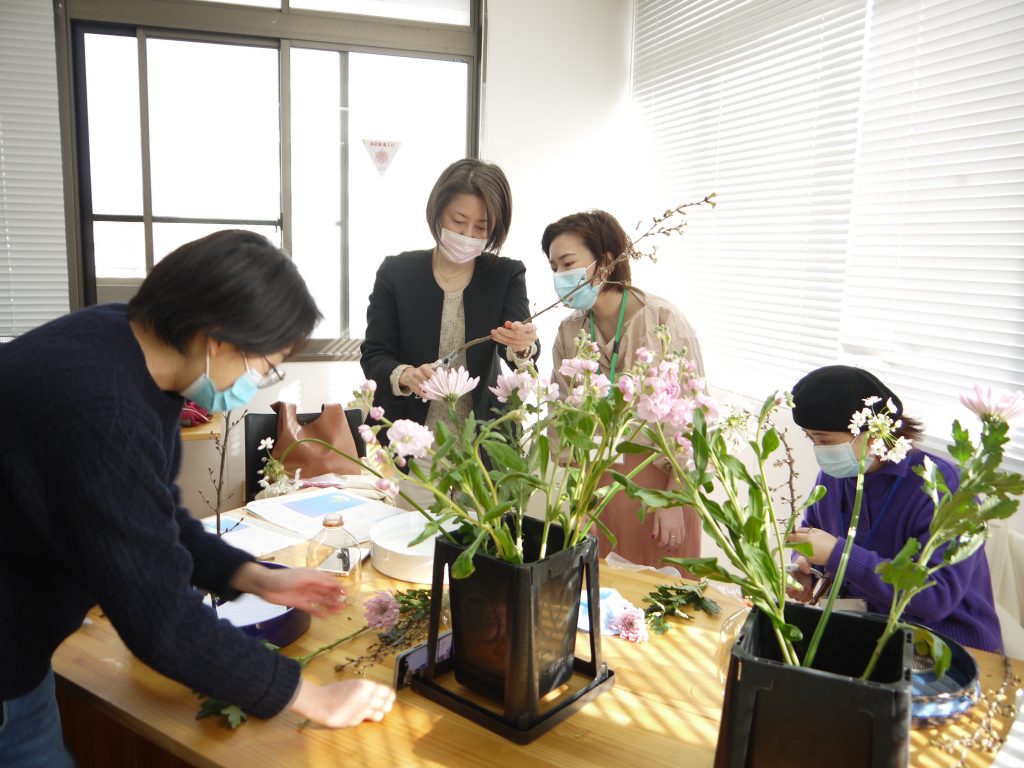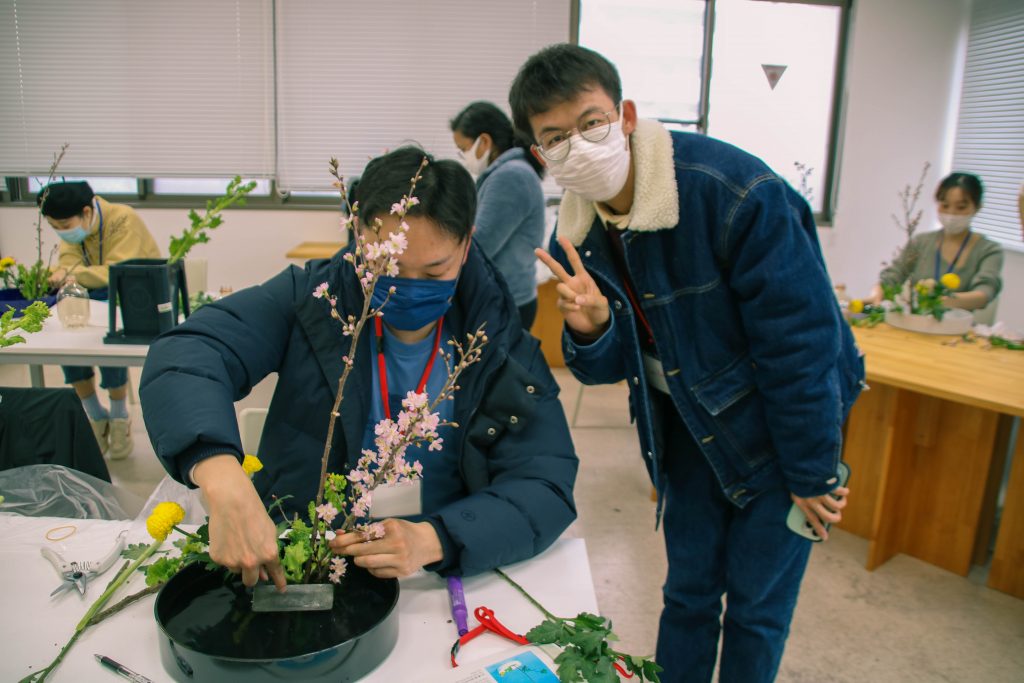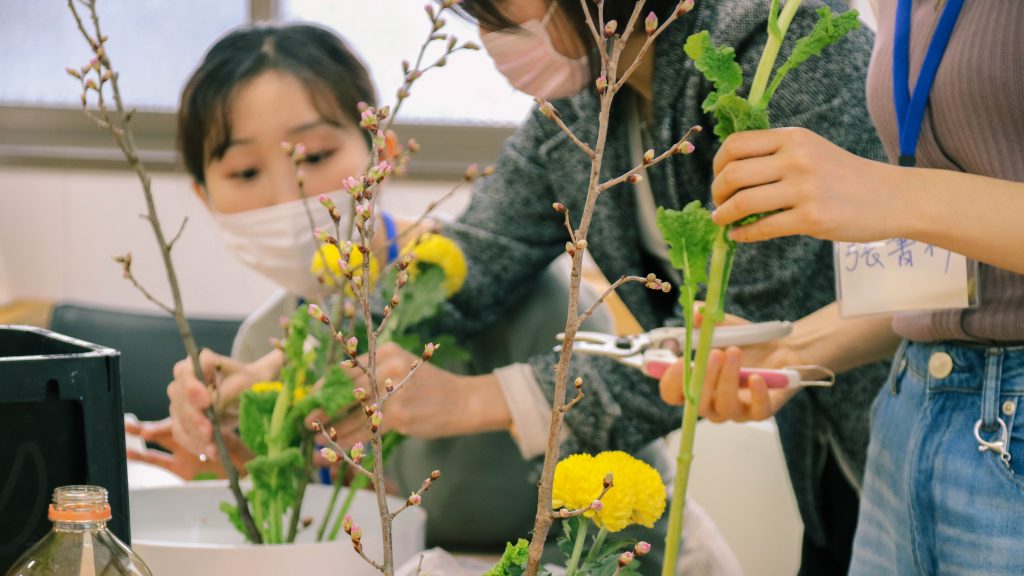 Inquires:
International Office, Faculty of Design
Email: intl-ofc@design.kyushu-u.ac.jp