Current students
【Closed】Farewell Party for graduates & Game Tournaments 2021/22
Get ready for the Game Tournaments!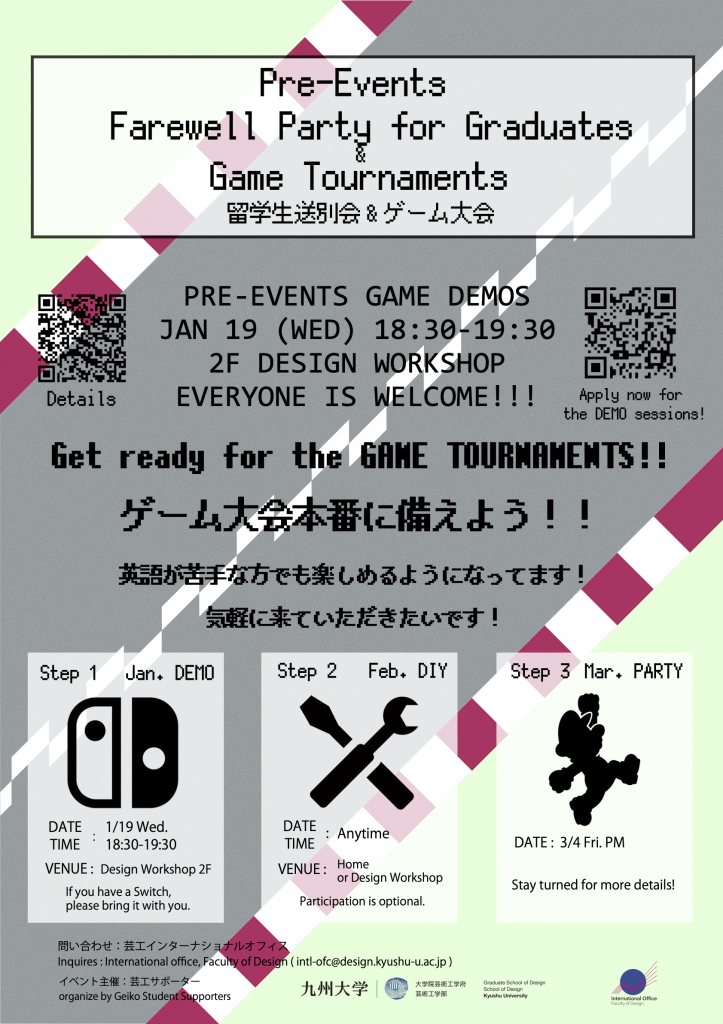 The Pre-Event of the "Farewell Party for Graduates & Game Tournaments" organized by the Geiko Student Supporters is an event to announce and promote the experience of the Game Tournaments to be held on Friday, March 4!
Both international and local students will play Mario Kart, 1-2-switch, and other games together and get to know each other!
In the demo session, we will play Mario Kart with a lifelike DIY steering wheel. We'll also introduce you to a techinical instructor who can help you make your own steering wheel for the games. It will be fun to have your own steering whee so don't hesitate to join us to prepare yourself for the race! 
Date and Time: 1/19 (Wed) 18:30-19:30
Additional dates are under consideration.
Venue: Craft Workshop, 2F Design Workshop, Ohashi Campus
Inquires: International Office, Faculty of Design(intl-ofc@design.kyushu-u.ac.jp)

Application: Registration is on a first-come, first-served basis (Capacity: 20).
Please register early to secure your seat. Please register in advance at below link.
https://docs.google.com/forms/d/e/1FAIpQLSd-SC3rrv9kuB5JCCAkroU9TdmqUAgqxNaBqHkAM6UDa3ASLg/viewform