Current students
【Closed】English Language Table (Jan -Mar) 2021/22
Let's have fun in English on every Thursday!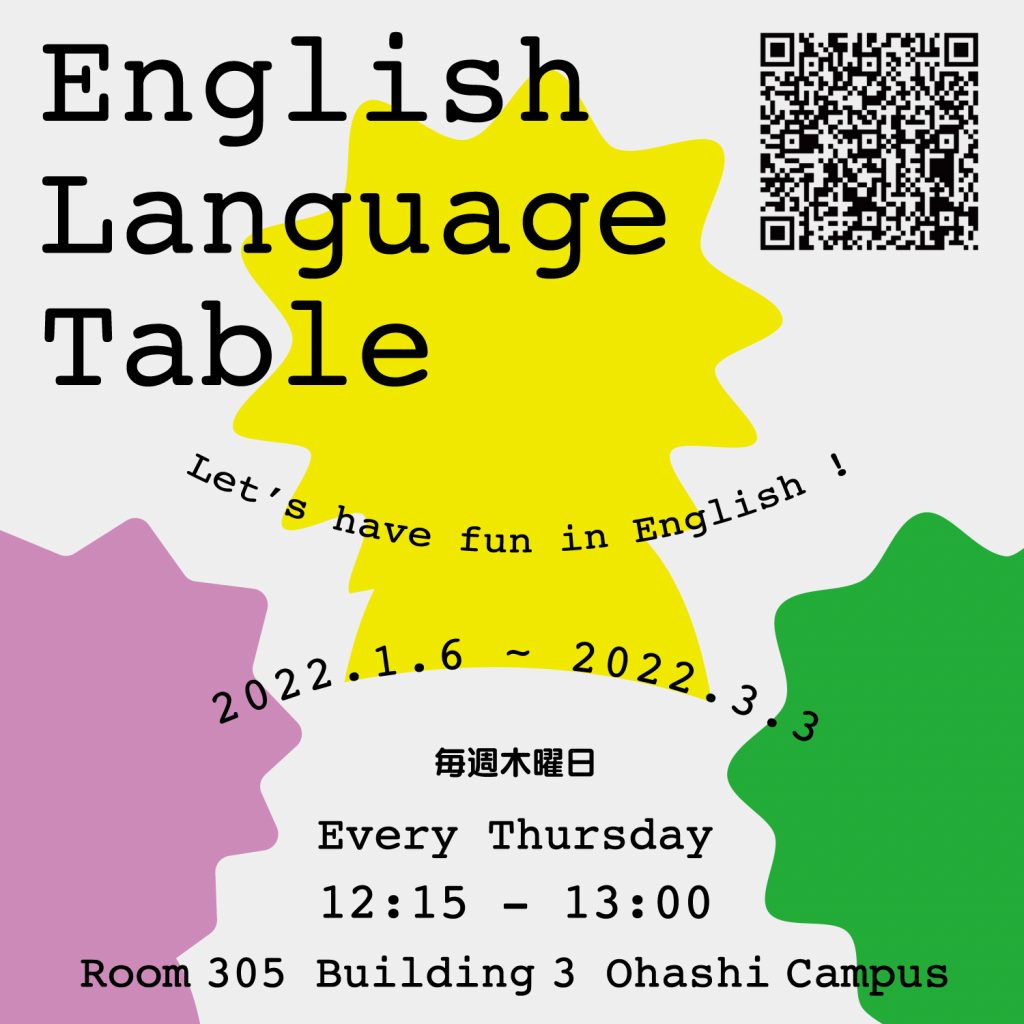 Organized by the Geiko Student Supporters, the "English Language Tables" is a weekly opportunity to practice English with native and non-native speakers and make new friends on campus. We will play a nice selection of party games, board games and digital games. Everybody in Geiko is welcome, so join us, make convo in English and have some fun together!
Date and Time: Every Thursday, 12:15 – 13:00, Welcome to stay behind to communicate with each others after the event. (January 6 – March 3, 2022)
Venue: International Lounge, Room 305, Building 3, Ohashi Campus
Inquires: International Office, Faculty of Design(intl-ofc@design.kyushu-u.ac.jp)
Application: Registration is on a first-come, first-served basis (Capacity: 20). Please register early to secure your seat. Please register in advance at here. (Walks in are welcome when the seat not filled)
<SPECIAL>
English Language Tables – Christmas Party (Dec 23, 12:15~@2F Design Commons)
The Christmas version of the English Language Tables organised by the Geiko Student Supporters will be held this Thursday on the 2F of Design Commons. Everybody in Geiko is welcome, come and join us to play fun games and celebrate the joy of Christmas together!
Date and Time: 12.23 Thursday 12:15 – 14:00
Venue: 2/F Design Commons
* Please bring a WRAPPED and FUN gift to exchange.
(Gift Exchange Theme: Something you find around the house that you no longer want or fun stuff from a thrift store. Something unique or odd or interesting, perhaps usable)
Registration: https://forms.office.com/r/w7v9aFPpP7
Registration is on a first-come, first-served basis (Capacity: 30). Please register early to secure your seat. Please register in advance at here. (Walks in are welcome when the seat not filled)
Inquires:
International Office, Faculty of Design (intl-ofc@design.kyushu-u.ac.jp)