Hello everyone, konnichiwa!
I was an exchange student from Taiwan and studied acoustic design at Kyushu University from October, 2019 to September, 2020. Here are my suggestions from when I studied in Kyushu University. I hope these comments can help you have a better life experience when you are studying at Kyushu University.
When students arrive in a new land, I guess that most of people's priority is meeting new people, and making friends with them. Unfortunately, people in Japan are quite shy. If you want to make a friend with someone, maybe try to ask them some questions about the course or school life, like places to find delicious food around school for instance. They are still willing to help you overcome any problems you face.
Fortunately, while I was in Japan, I did not find any restaurants that tasted so terrible. But, there are some expensive restaurants around the school, so be careful. Otherwise, you can choose to eat at the student cafeteria. The food in the student cafeteria is quite cheap, around 450 to 650 yen. And if you show your student card, you can have a student discount of 50 yen off!
When you have just arrived at Japan and start a new school life in Kyushu University, usually, you will face some problems like knowing nothing about the life in Japan, visa problems, not knowing how to open a bank account etc. Fortunately, there are some volunteer students in Kyushu University who are called "supporters" who can help you solve these problems. Also, in the school, there is a division called "support center" who can give you answers or try to help you overcome the problems you have encountered.
When abroad, one thing almost everyone  will do is travel and experience the local culture. Having a little trip is always a funny thing people should do. Thanks to the good public transport network, you can easily go anywhere you want to go. Also, it is a good choice to travel around the whole of Kyushu if time and money allows you to do it. You can start from Fukuoka city. For example, taking a train to Dazaifu from Ohashi campus will just take you around 30 minutes, and then you can have a good experience of the culture and history of Japan. Also, Kyushu University sometime will hold some events which can not only let you experience the culture of Japan, but make some friends from both Japan or other countries.
Finally, here are my comments from while I studying in Kyushu University. I think the time I spent studying in Kyushu University was quite joyful and gainful. While there, I have learned a lot of thing that I have ever thought before. Also, I had been to some place and done some crazy things that I would never do before. The time studying in Kyushu University may the best time for me of all my school life until now.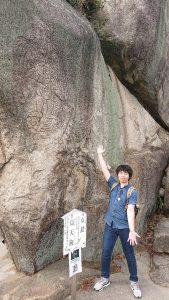 in Onomichi – Senkouji karasutengu stone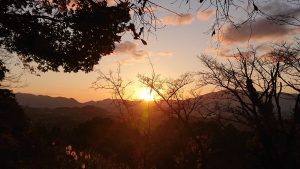 in Fukutsu – New year sunrise at Miyajidake shrine
Wang PingFu
Since Sept 2019 to Aug 2020
School of Design,
MingChuan University, Taiwan